Franck Boclet is a famous French Designer of Fashion and Niche Perfume. Being a true Parisian designer, he creates extremely masculine as well as inversely feminine fashion contrary to trends, which achieve a high degree of sensuality, detail, volume, rigor and well-being. Passionate about contemporary art, design and music, Franck Boclet is inspired by everything he encounters: the rock icons of the 80s, details seen in a film, a beautiful landscape or even just out of the blue.
A man of action and concreteness, a fiery temperament, a rebellious and impulsive side makes him a fashion and fragrance chameleon. Franck Boclet is the only artistic director in fashion to create niche fragrances.
"I wanted to create fragrances with a strong personality, exceptional, giving emotion and sensuality in harmony with our mood and soul. Our collections allow us to offer a palette of different fragrances so that everyone can highlight their personality"
The brand offers two exceptional fragrance lines: Fragrance Collection, with a range of different fragrances (eau de parfum) at 20% concentration and the Rock & Riot line (perfume extract) with 2 collections; Black Edition and the new Ivory Collection. 

Rock & Riot
The collection is totally in the DNA of Franck Boclet, refers to the Rock musics on vinyl records of the 60s, 70s and 80s from the Eighties such as the Rolling Stones, David Bowie, The Clash….
It's also a spirit, a creative way of life and an art like the sober & gorgeous design.
Black Edition
Black Edition is the first collection of the Rock & Riot line created in 2016, which offers sublime Fragrance Extracts at 40% concentration.
It includes the fragrances of: Angie, Ashes, Cocaine, Crime Erotic, Heroes, Icon, Rebel, Sugar and the new fragrances: Woodstock, Vinyl, Freedom.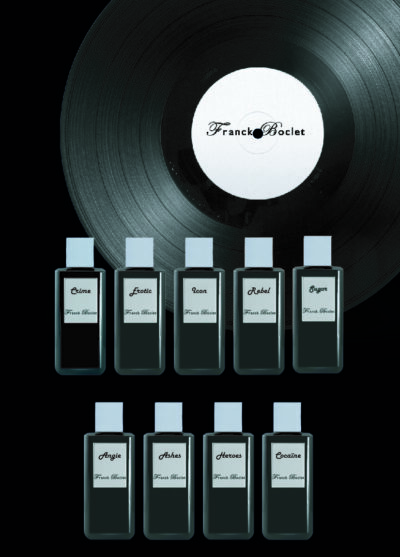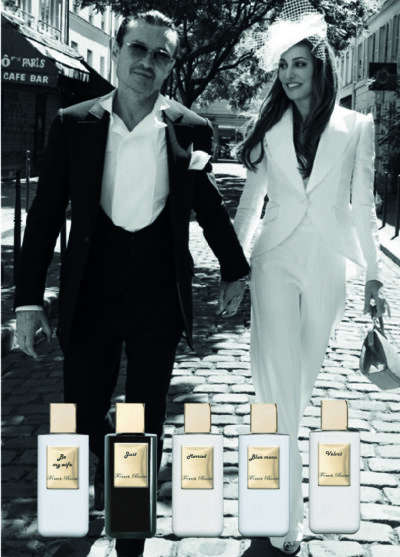 Ivory
Inspired by the celebration of the wedding of Franck & Solenne.
Ivory collection is dedicaded to Lovers, with 3 single coffrets and a wedding coffret. Under a rock and roll background, it looks like a love story that begins with «Be my wife», then «Just & Married» followed by «Blue Moon» and finally «Velvet».
An invitation to discover these lovely niche fragrances through this glamorous and romantic novel of two rock glam lovers.