It's a pleasure to share some pictures and information of our grate experience at Esxence 2019 fair!
Thanks to its premises both in Savona and New York, Abaton Exceptional Luxury Brands established itself as a benchmark in the artistic perfumery distribution.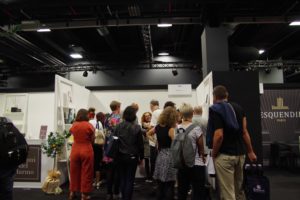 This ambitious project was illustrated at Esxence, the Italian reference event that reaches a worldwide audience. Abaton had a booth dedicated to their core products based on Chinotto. They also organized a workshop to show the main features of the niche perfumery in the U.S.
The experience gained by Abaton siblings in the US market allowed them to draw attention to its light and shadow, and to give useful information on the main tendencies and the best strategies to approach this industry, even overseas.
Link to the video: https://www.youtube.com/watch?v=tL-kQYm-KBM&feature=share&fbclid=IwAR2HOcx4TWZjo_kS9I7Dp0X5elq2AFD6oNYhM3p7w_7HvRo4dwfCaxSf2FY
During the event, Abaton also promoted "Exceptional Experience at Esxence with Abaton", a meet up dedicated to bloggers and journalists.  They traversed the fair stopping at different booths, discovering the distinctive olfactory traits of the brands distributed in Italy and in the US, thus living an interactive and engaging experience.
"We've got a true passion for artistic perfumery. We are a constant source of ideas. Our products are exclusive and able to touch, in any part of the world." Says Marco Abaton, CEO.