Absinthe… so refreshing, so aromatic, so deliciously disreputable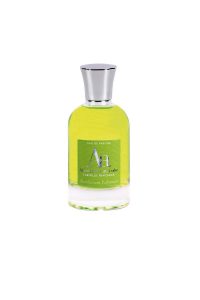 Monsieur Pascal Rolland, founder of Liquoriste de Provence, brought absinthe liquor back to the world after a 100-year ban. Forbidden for public consumption, those who wanted to experience the pleasures of Absinthe had to discover it hidden behind speakeasy doors.
Absinthe is a spirit infused with myriad herbs and botanicals, centering around anise, fennel and wormwood, and Artemisia absinthium from which absinthe take his name.
It contains small amounts of thujone, a compound once thought to affect the mind and bring on madness.
From daily contact with the alluring aromas that Pascal Rolland had, an idea took form, he collaborated with a perfumer and produced the first perfume with absinthe, calling it "Absolument Absinthe".
The alchemy was captivating, the chemistry was undeniable, and Absolument Absinthe was an immediate success that has since become a cult-favorite fragrance across the globe.
In the summer heat of Provence, you will appreciate the incomparable freshness of Absolument Absinthe. Characterized by an unparalleled cool sensation, the Absinthe melded with Hesperides and Cannabis bring depth and an excellent lasting power to the perfume on the skin.
Luxury Overdose Pluie d'Osmanthe, a unique, fresh and carnal fragrance
The legend says that a young Chinese magician named WU GANG was banished to the moon by the JADE Emperor. He was sentenced to cut an immortal tree: the Osmanthus. It is by hitting it to cut it without ever succeeding that some seeds would have fallen on Earth at the edge of a Chinese lake in the foothills of the Himalayas where they still flourish today. Osmanthus is a small shrub with white flowers and delicious scents, a real treasure for fine perfumery.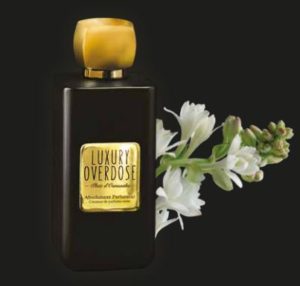 The sweet sensuality of the Osmanthus absolute refreshed by the morning dew, the velvet notes of the Davana of India, the intoxicating sweetness of the Jasmine mixed with roses and enhanced by notes of Mirth, the animal power of Amber, Musk and Patchouli, make "Pluie d'Osmanthe" a unique, fresh and carnal fragrance.